Hydraulic Seals - Compact Double Acting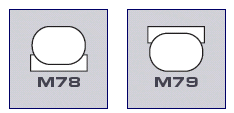 M78 and M79 are compact double acting seals for rod and piston seals. They can replace O-ring seals, without hardware modifications, to improve performance for existing equipment.
Unless space is a premium, it is advisable to use larger section seals such as M74/M75 if possible.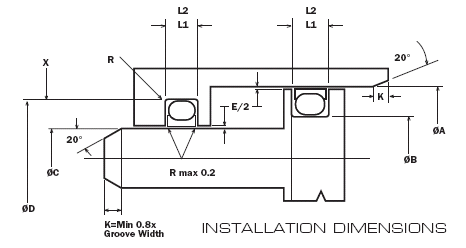 Advantages
Surface Roughness
Operating Ranges

Simple and stable design
Compatibility and temperature limited only by elastomer material
Good extrusion resistance
No vulcanising to hardware
Compact seal envelope
Good wear resistance

Cylinder/bore: Ra=0.05 - 0.6µm
Rod/shaft: Ra=0.02 - 0.5µm
GrooveØ: Ra<2.5µm
Groove walls: Ra<4µm

Up to 350 bar
Oscillatory up to 5m/s. High frequencies over 5Hz - please consult Moontown
Temperature from -25°C to + 25°C limited by the O-ring material
Table for Type M78 Rod Seals
Type

Groove
Width

L1 + 0.2

Type
GROOVE
WIDTH
L2 + 0.2

ROD

​ØC

f8/h9

Groove

​ØD

H9

Groove
Depth X
Radius
R Max
Diametral
Clearance
E Max
O-RING
Series
C/S
M78A
2.40
M78F
3.8
4 - 9.9
C + 2.9
1.45
0.4
0.13
000
1.78
M78B
3.60
M78G
4.65
10 - 19.9
C + 4.5
2.25
0.4
0.13
100
2.62
M78C
4.80
M78H
5.70
20 - 39.9
C + 6.2
3.10
0.6
0.15
200
3.53
M78D
7.10
M78J
8.50
40 - 119.9
C + 9.4
4.70
0.8
0.17
300
5.33
M78E
7.10
M78K
11.20
120 - 400.9
C + 12.2
6.10
0.8
0.25
400
7.00
Table for Type M79 Piston Seals
Type

Groove
Width

L1 + 0.2

Type
GROOVE
WIDTH
L2 + 0.2

BORE

ØA

H9

Groove

ØB

h9

Groove
Depth X
Radius
R Max
Diametral
Clearance
E Max
O-RING
Series
C/S
M79A
2.40
M79F
3.8
8 - 13.9
A -2.9
1.45
0.4
0.13
000
1.78
M79B
3.60
M79G
4.65
14 = 24.9
A -4.5
2.25
0.4
0.13
100
2.62
M79C
4.80
M79H
5.70
25 - 45.9
A -6.2
3.10
0.6
0.15
200
3.53
M79D
7.10
M79J
8.50
46 - 124.9
A -9.4
4.70
0.8
0.17
300
5.33
M79E
9.50
M79K
11.20
125 - 400.9
A -12.2
6.10
0.8
0.25
400
7.00