Sanitary PTFE Seals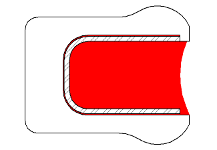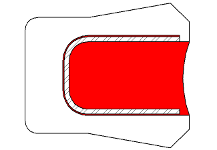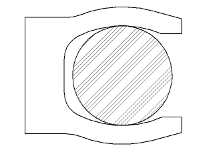 Our range of sanitary seals comprise of silicone filled versions of either our M20 or M60 series. The profile is fitted with a u spring as standard and then its cavity is filled with silicone, leaving the cavity surface smooth and without cracks or cavities. This prevents dirt particles and contaminates from entering the cavity thus making the seal easy to clean. As such these seals are favoured in applications where a lot of dirt is present and in food and drug applications where FDA approval is required.
Our silicone is also FDA Approved and available in red, white and clear.
We also offer our range of M01 seals with a silicone "O" Ring in place of the coil spring. For material selection please see those recommended in the table below. For hardware dimensions please refer to those of the standard M01 style. More details on these seals available from Moontown on request.
Recommended FDA Materials
Code 01 White FDA Approved
Code 10 White FDA Approved
Code 15 White FDA Approved
Code 22 White FDA Approved
Code 28 Black FDA Compliant
Other materials are available and will be recommended on discussion of each individual case with our technical department.